Hello Dreamland
$14.99
Hello Dreamland is an amazing collection of bedtime "tuck-me-in" songs crafted to make sleepytime an inviting prospect as Mary sings your child to sleep by name.
---
Remember, we can spell your child's name any way you want.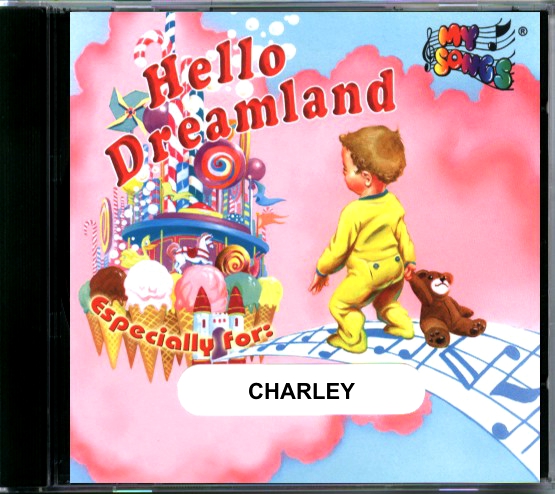 We sing our songs just for you, name
Hello Dreamland
A sweet invitation to accept that restful time just before drifting off; the gentle rhythm is like being rocked to sleep under a rainbow...
The Piper
The first of the sleepy-time journeys; a bit like a slow dance, the feeling of a medieval Celtic piper weaving his way across green hills and valleys.
Candy Island
What every kid knows about Dreamland – where all the candy is! This Hawaiian-flavored treat will have your child smiling through the night.
Moonbeam Lullaby
A soft big band sound that may even remind you of some of the music your folks used to listen to! Images of ballrooms and stardust...
Counting Sheep
A gorgeous traditional lullaby, the gentle rocking rhythm of this song is underscored with a relaxing bass line like a sleeping heartbeat. Wonderful.
Everything Is Okay
The gentle feeling of a soft summer night at an old hacienda, this one assures your child that we and everyone we love are safe and warm.
Angel, Watch Over Me
A quiet country flavor for tuck-me-in time. No kid feels so safe as when they know an angel is standing guard, ready to ward off bad dreams.
The Wishing Well
Grownups tend to forget the power of the Wishing Well. What's more comforting than drifting off with a penny's worth of wishes coming your way?
I Wish You Love
A sweet affirmation of love that puts the snuggle into those last waking moments: the pillow fluffed up just right, a soft little kiss, and... good night...!
Remember, we can spell your child's name any way you want.
Use the box below to look for your special kid's name. This looks for names by how they SOUND – so just type the first few letters, and a list of possible names will appear. Choose the name you want, and click the green button to hear it spoken. Then just click the Continue button at the bottom!
Aaron
Abby
Abigail
Abraham
Ace
Adam
Addison
Addy
Adena
Adrian
Adriana
Aidan
AJ
Alan
Alana
Alec
Aleena
Aleeyah
Alex
Alexa
Alexander
Alexandra
Alexandria
Alexi
Alexia
Alexis
Ali
Alicia
Allison
Alyssa
Amalia
Amanda
Amaya
Amber
Amelia
Amy
Anais
Anastasia
Andrea
Ándrea
Andrew
Andy
Angel
Angela
Angelina
Angelo
Ann Marie
Anna
Annabella
Annabelle
Annalise
Annarose
Anne
Annie
Annika
Anthony
Antonia
Antonio
Apple
April
Arden
Ari
Aria
Ariana
Arianne
Ariel
Áriel
Áriella
Arly
Arthur
Asher
Ashley
Ashlynn
Ashton
Aspen
Aubrey
Audra
Audrey
August
Augusta
Aurora
Austin
Autumn
Ava
Ava Ruth
Avalon
Avery
Avi
Axel
Ayla
Aynsley
Bailey
Barron
Becky
Bella
Ben
Benjamin
Bennett
Bentley
Berkeley
Bernice
Beryl
Beth
Bethany
Bettyjane
Bianca
Billy
Blaine
Blair
Blake
Bobby
Bodie
Bonnie
Brad
Braden
Bradley
Brady
Brandon
Brandy
Braxton
Bree
Brendan
Brenna
Brennan
Brent
Brett
Brian
Briana
Brianne
Bridget
Briella
Briley
Brittany
Brody
Brogan
Bronson
Brooke
Brooklyn
Bruce
Bryce
Bryn
Brynlee
Bryson
Byron
Cade
Caden
Cadence
Caitlin
Cal
Cale
Caleb
Calista
Callie
Calvin
Cambria
Camden
Cameron
Camilla
Camille
Cammie
Campbell
Candace
Cannon
Cára
Carinna
Carissa
Carla
Carlos
Carly
Carmen
Carol
Caroleena
Caroline
Carolyn
Carrie
Carson
Carter
Cary
Casey
Cash
Cassándra
Cassidy
Cassie
Catalina
Catherine
Cathy
Cecelia
Cecille
Celeste
Celia
Celine
Chad
Chance
Chandler
Chanel
Channing
Charlie
Charlotte
Chase
Chelsea
Cheryl
Cheyenne
Chloe
Chris
Christian
Christiana
Christina
Christine
Christopher
Christy
Cindy
CJ
Claire
Clara
Clark
Claudia
Clayton
Clint
Coby
Cody
Colby
Cole
Colette
Colleen
Collin
Colson
Colt
Colton
Connor
Cooper
Cora
Corbin
Corinne
Cory
Courtney
Craig
Crystal
Cullen
Curt
Curtis
Cynthia
Cyrus
Dahlia
Daisy
Dakota
Dale
Dallas
Dalton
Damien
Dana
Dane
Danica
Daniel
Daniella
Danielle
Danny
Dante
Darrell
Dashiell
David
Davis
Dawn
Dawson
Deacon
Dean
Deanna
Decker
Decklin
Deirdre
Delaney
Delilah
Denise
Dennis
Denny
Derek
Desmond
Destiny
Devlin
Devon
Devonne
Dexter
Diana
Diego
DJ
Dominic
Donna
Donny
Donovan
Dori
Dorian
Dorothy
Douglas
Drake
Drew
Duncan
Dustin
Dylan
Earl
Easton
Echo
Eddie
Eden
Edith
Eileen
Elaine
Elena
Eli
Elias
Elijah
Eliza
Elizabeth
Ella
Elle
Ellen
Ellie
Elliott
Ellis
Ellory
Elsa
Elyse
Emerson
Emily
Emmett
Emmy
Emory
Enid
Eric
Erica
Erin
Ernesto
Esther
Ethan
Eugene
Eva
Evan
Eve
Evelyn
Everett
Everly
Evie
Ewan
Ezekiel
Ezra
Faith
Fallon
Farrah
Felicia
Felicity
Fernando
Finley
Finn
Fiona
Fletcher
Flynn
Forrest
Francesca
Frankie
Freddy
Frederick
Fredrica
Frieda
Gabby
Gabe
Gabriel
Gabriella
Gabrielle
Gage
Garrett
Gavin
Geneva
Genevieve
George
Georgia
Gerald
Gia
Gianna
Gina
Ginger
Gino
Giovanna
Giovanni
Giselle
Gladys
Glenn
Grace
Gracie
Graham
Grant
Grayson
Gregory
Greta
Griffin
Gunner
Guy
Gwen
Hadley
Hailey
Hallie
Hamilton
Hannah
Harley
Harlowe
Harper
Harrison
Harry
Haven
Hazel
Heath
Heather
Heidi
Helen
Henry
Holden
Holland
Holly
Homer
Hope
Hudson
Hugh
Hunter
Ian
Ila
Iliana
India
Ireland
Irene
Iris
Isaac
Isabel
Isabella
Isaiah
Ivan
Ivana
Ivy
Jack
Jackie
Jackson
Jaclyn
Jacob
Jada
Jade
Jake
James
Jameson
Jamie
Jane
Janelle
Janice
Jared
Jarren
Jasmine
Jason
Jasper
Jax
Jay
Jaycee
Jayden
Jaylen
Jazzlyn
Jd
Jeannie
Jeff
Jeffrey
Jenna
Jennifer
Jensen
Jeremiah
Jeremy
Jesse
Jessica
Jett
Jillian
Jimmy
Jj
Joanna
Joaquin
Jocelyn
Jody
Joe
Joel
Joey
John
Johnny
Jolie
Jonah
Jonathan
Jordan
Joseph
Josephine
Joshua
Josiah
Josie
Joy
Jude
Julia
Julian
Juliana
Julie
Juliet
June
Justice
Justin
Justine
Kai
Kaia
Karen
Kate
Kathleen
Katie
Katrina
Kayla
Kaylee
Kaylen
Keaton
Keegan
Keeley
Keenan
Keilani
Keira
Keith
Kellen
Kelly
Kelsey
Kendall
Kendra
Kennedy
Kenneth
Kenny
Kent
Kenzie
Kerry
Kevin
Kiana
Kiara
Kieran
Kiley
Kimberly
Kingston
Kiri
Kirk
Kirsten
Knox
Kobe
Krista
Kristen
Kyla
Kyle
Lacy
Lana
Landon
Lane
Laney
Lanna
Laura
Lauren
Laurie
Lawrence
Lawton
Layla
Layton
Leah
Leanna
Leanne
Lee
Leia
Leilani
Leland
Lena
Leo
Leon
Leonard Talbert
Leslie
Levi
Lexi
Liam
Liana
Lilah
Liliana
Lillian
Lily
Lincoln
Linda
Lindsay
Lisa
Liv
Liza
Lloyd
Logan
Lola
London
Lorelei
Loretta
Louis
Louise
Luca
Lucas
Luchia
Lucia
Lucy
Luis
Luke
Luna
Lydia
Lyle
Lynn
Mac
Macauley
Macy
Maddox
Maddy
Madelyn
Madison
Maggie
Malcolm
Malia
Malina
Mallory
Mamie
Mandy
Mara
Marcia
Marco
Marcus
Marcy
Margaret
Margo
Maria
Mariah
Marie
Mariella
Marilyn
Marina
Mario
Marissa
Mark
Marlee
Marshall
Martha
Martin
Martina
Marty
Mary
Maryn
Mason
Mateo
Matilda
Matthew
Maverick
Max
May
Maya
Mckaylee
Mckenna
Mckenzie
Mckinley
Megan
Melanie
Melissa
Mercedes
Meredith
Merritt
Meryl
Mia
Micah
Michael
Michaela
Michaia
Michele
Mickey
Mila
Miles
Miley
Millie
Milo
Mira
Miranda
Miriam
Mitchell
Mohammed
Moira
Molly
Monica
Monique
Montana
Morgan
Myra
Nadia
Nancy
Naomi
Natalia
Natalie
Natasha
Nate
Nathan
Nathaniel
Neela
Nevaeh
Nica
Nicholas
Nick
Nicky
Nico
Nicole
Nicolette
Nile
Nina
Noah
Noelle
Nora
Norma
Olive
Oliver
Olivia
Orlando
Oscar
Owen
Paige
Paisley
Pamela
Paris
Parker
Patience
Patricia
Patrick
Paul
Paula
Pax
Pearl
Penelope
Penny
Perry
Peter
Peyton
Phillip